Engine Oil Treatment For RVs | Battle Proven Technology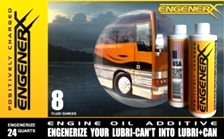 Engine Oil Treatment For RVS



Engine Oil Treatment For RVs | 8 fl oz of EngeneRx Engenerizes up to 24 quarts of mineral or synthetic motor oil.


The United States Military, the Aerospace industry and the engine in your RV will share a common bond: EngeneRx Lubri+Can© Advanced Solid Particle Technology.
Our micronized suspension of chemically charged particles will harmoniously blend with your preferred RV engine oil to improve performance and dramatically reduce friction and wear.
A two ounce bottle of EngeneRx engenerizes up to six quarts of your preferred mineral or synthetic motor oil.
An Eight ounce bottle of EngeneRx engenerizes up to 24 quarts --for larger RVs and heavy equipment,
EngeneRx.com
419 The Parkway PMB#225
Greer, South Carolina 29650

For Assistance: (704) 880-2911